Fotolia
Problem solve
Get help with specific problems with your technologies, process and projects.
How to use DevOps Slack to improve team collaboration
If DevOps is about anything, it's collaboration within teams and across the organization. Communication -- remote and in person -- is essential when faced with an inevitable crisis.
DevOps relies on collaboration between developers and operations. Yet, ironically, the methodology based upon collaboration has yet to perfect its own strategies on the matter.

Download this free guide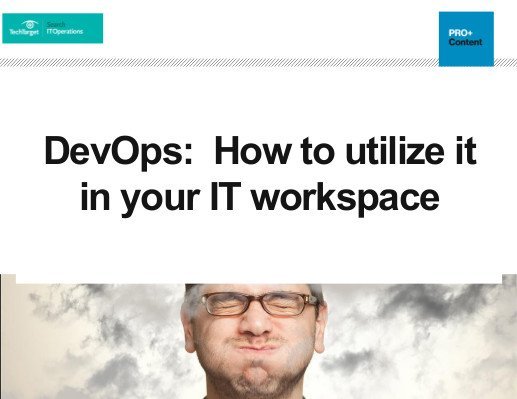 PDF: Are you migrating to DevOps?
As DevOps is slowly taking over the IT landscape, its vital that IT pros understand it before jumping right into the movement. In this complimentary guide, discover an expert breakdown of how DevOps impacts day-to-day operations management in modern IT environments.
So if you find collaboration challenging, you're not alone. But if you can roll out DevOps Slack properly, collaboration will happen. Here are some ways you can benefit from it.
A DevOps burden
Before we begin, let's try to understand why collaboration is such an issue among so many DevOps teams right now.
As much as we try to be, we simply can't be everywhere all the time. We have families, children, friends and many responsibilities outside the workplace. Most organizations don't have a team in the office 24/7, so when a crisis occurs, your DevOps team is likely not available.
As a result, the burden of fixing issues often falls on a small group of people. Of course, work-life balance is extremely important -- whether you work in DevOps or otherwise. But, as you know, emergencies happen, and when they do, collaboration becomes even more essential in order to prevent one or two people from cleaning a huge mess on their own without support from their teammates.
A vehicle for easier collaboration
Since these crises don't solve themselves, organizations must put collaborative work environments in place to make communication as seamless as possible.
That's where DevOps Slack comes in. In my opinion, it is not an exaggeration to say that Slack may just be the single most valuable tool for DevOps collaboration. Not only can you communicate with it, but there are also a variety of great Slack apps you can integrate into a system to increase collaboration from afar.
Some examples include Github, Jenkins and many others. Slack even makes it easy to create your own integration, like we did at Logz.io when we created Kibana Snapshots integration. This feature allows you to instantly share Kibana dashboards and visualizations right in your DevOps Slack, so your teammates can see and discuss important events in real time.
Slack on the go
As DevOps professionals, our entire philosophy is collaboration-based.
While Slack is generally thought of as a real-time conversation portal, it's actually so much more than that. As we know, the best way to integrate dev and ops is an open and easy way to communicate -- and Slack provides just that.
In just a few years, the tool has grown from a popular communication tool for startups to a corporate tool paramount for smooth operations between teams.
So how can you put DevOps Slack to use for easier collaboration? Here are some tips that have worked for us:
Take advantage of channels. Create a specified DevOps Slack channel for various common roles or common projects. This way, everyone working on a particular initiative can be in the know at all times.
Use video conference calls. In emergency situations, use Slack's calling feature to round up your team for conference calls. As we know, especially in emergencies, spoken communication is quicker and more helpful than chats. Make sure to use this feature sparingly and never bother your team with calls that are not absolutely necessary on their off hours.
Use Slack apps. Integrate DevOps Slack apps for smooth visualizations and real-time notifications of what is going on in your environment, but make sure not to go overboard with these apps or you will suffer from notification overload.
DevOps collaboration
As DevOps professionals, our entire philosophy is collaboration-based. What is good collaboration worth? Absolutely everything.
Collaboration between developers and operations allows us to work faster, produce more functional and usable products and maintain our products in order to prevent failure.
We coordinate with one another in order to pursue the same goal: the development of high-quality and effective products, no more fragmentation, no more strain between teams.
But in order to collaborate, communication is key, both in person and with remote tools.
Hopefully in 2018, by implementing some of the DevOps Slack communication tips listed above, we can overcome this challenge and become even more team-oriented.
Dig Deeper on DevOps leadership